Dial-A-Llama
In a nutshell, Dial-A-Llama is a humorous take on technology designed to utilize art to create a laugh or two and hopefully create a little happiness along the way.
Dial-A-Llama is a relational art installation where a participant engages in a conversation with the Dial-A-Llama bot from a phone booth positioned near a vintage horse trailer.
After the conversation, viewers experience the feeling of viewing a third dimension when a holographic illusion of a llama appears in the trailer in the form of a simulated teleportation.
Others are able to text the Dial-A-Llama at 504.226.7524 and engage the Dial-A-Llama bot in conversation. Visitors can also chat with the Dial-A-Llama bot located on the bottom right corner of this website.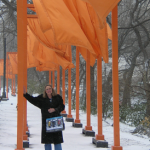 Pam Vivien Keaton
DIAL-A-Llama Installation Artist – visiting "the Gates" in Central Park.
The DALAI Lama
The purpose of our lives is to be happy.
Happiness is not something ready made. It comes from your own actions.

If you want others to be happy, practice compassion. If you want to be happy, practice compassion.

Our prime purpose in this life is to help others. And if you can't help them, at least don't hurt them.
My religion is very simple. My religion is kindness.
Remember that sometimes not getting what you want is a wonderful stroke of luck.
Be kind whenever possible. It is always possible.
All of the above are quotes of the Dalai Lama.
Illuminated Art Installations
One Artistic Eye Deserves Another
An official New Orleans Tricentennial signature event, LUNA Fête 2017 ran from December 6 – 10 in Lafayette Square and along Lafayette Street to Fulton Street. This multi-day celebration is free and open to the public and features illuminated installations, digital sculptures, video-mapping projections, and art animated by technology – intended to engage and inspire audiences of all ages.
In 2016, more than 50,000 attendees visited downtown New Orleans to view work by international and local artists highlighting the intersection of art, architecture, technology, community engagement, and tourism.
With LUNA representing "Light Up NOLA Arts," LUNA Fête is the Arts Council's experiential community-wide event that unfolds over the course of a week; we also will "shine a light" on the great work being done by our partners, peers, and friends.
Each year, the Arts Council will grow the scope of its international partnerships with video-mapping practitioners and expand the number of installations we commission and produce in New Orleans, with the intention of stimulating cross-sector relationships and collaboration and connecting our community to a new form of contemporary practice.
From The Times Picayune and NOLA.COM
The vibe of LUNA Fete, which was inspired by similar European festivals, is basically cool, mysterious, and magical. But there's at least one example of pure Monty Python-style nuttiness. At the "Dial a Llama" booth, participants will be able to use an old-fashioned telephone to place a call to some loquacious cartoon llamas (you know, those cute camel-like creatures without humps) who live in a travel trailer parked nearby.
This reporter considers it pointless to attempt to provide any further elucidating description or rationale for the "Dial a Llama" booth. Like the rest of Luna Fete, you just have to get out there and see it in person, or remain in the dark.
– Doug MacCash
A really Special Event
Be a part of something big
Let's face it – a special event is something we look back on for years to come, remembering the good times we've had and the wonderful people we've shared our time with.
Join us and create some beautiful memories from the type of art that is fun, magical, and engaging. International artists, local artists, volunteers, as well as sponsors, grants, and generous donors make this flagship event of the Arts Council New Orleans possible. For more info, please contact Lindsay Glatz
PRESS for Luna Fête 2017